DARZAH: ETHICAL BOOTS WITH A SUSTAINABLE MISSION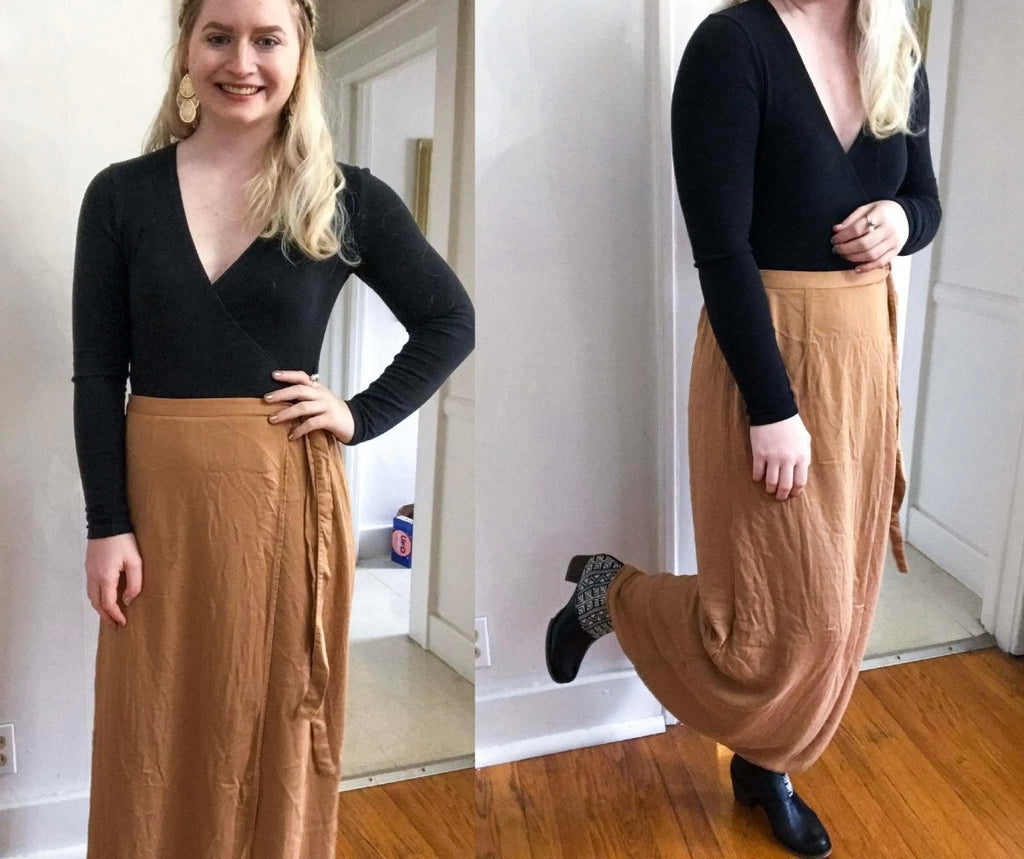 This blog is a repost from Laura Markley of Waste-Free Phd Blog. Laura is a PhD student in the Civil and Environmental Engineering department at Syracuse University. Check out her blog for ideas on how to  reduce waste and find accurate information on waste, chemicals, and human/ecosystem health.
DARZAH: ETHICAL BOOTS WITH A SUSTAINABLE MISSION
I fell in love with Darzah when I first saw Liv from Simply Liv & Co post about their mules a long, long time ago. I went straight to their website and was in awe of their beautiful tatreez embroidery, with varying colors and gorgeous attention to detail.
I then saw that they sold boots, which were even better in Syracuse's cold climate. I didn't end up purchasing from them until months later, when all of my hopes of finding suitable fashionable and comfortable footwear for my wide feet were dwindling.
I reached out to Darzah on Instagram to see if their ankle boots would accommodate my feet, and was pleasantly surprised to hear they were adjusting the width so more people could wear them. I knew I had to give them a try!
Darzah discounted my boots in exchange for a review. However, all thoughts in this review are my own and I am presenting my honest opinion of the company, their mission, and the product.
DARZAH'S MISSION
The embroidery on Darzah ("stitch" in Arabic) products is called tatreez embroidery, which is a traditional Palestinian embroidery technique. As a non-profit and fair-trade certified company, Darzah provides opportunities for refugee and low-income women to have well paying jobs and positive working conditions in the West Bank. They aim to celebrate and uplift the women and Palestinian culture that resides there.
I was astounded to learn that unemployment rates in 2015 for young women in the West Bank were as high as 63%. Darzah is working to help provide training and jobs to the individuals in the West Bank that need them the most. Darzah is a part of Child's Cup Full, a non-profit women's economic empowerment initiative based in Zababdeh, a village located in the northern West Bank.
The training and jobs from Darzah changes lives and as the founder said to me, the artisans working for Darzah have changed their lives in return.
SUSTAINABILITY: WASTE AND LEATHER PROCESSING
Darzah products, like the boots I purchased, are made from real leather. I am not vegan, but I do like to consider where animal products I purchase are sourced from. In my opinion, I would rather have an animal-based product that would last longer and is sustainably sourced than one that is plastic-based and will wear less favorably over time.
Before going into the details, I want to say that I am incredibly impressed with the degree of transparency that Darzah had in sharing this informationabout their leather processing and answering questions my IG followers had.
All of the leather used in Darzah products is sourced from a family-run leather manufacturer in Khalil/Hebron. This leather is not only local, but is material that would otherwise be wasted. All leather used is sourced from local butchers.
As for their leather tannery, 80% of the materials they use are vegetable-based and the rest is chromium (III) and zinc. In contrast to chromium (VI), chromium (III) is less mobile and less toxic (Fei and Liu 2016). Chromium and zinc are used during the first stage of leather treating to get rid of hair and wool. Tanneries follow the international standards in treating leather.
They have a special refinery that separates the chromium and zinc from the rest of the water, which is then collected as a powder to be stored or disposed of inside Israel.
The debate between fake leather and real leather is a complicated one. If you are vegan and uncomfortable wearing animal products, these may not be the shoes for you. However, I think it's important that we consider the life cycle of both "leathers" and how they come into being: one is a byproduct of the meat industry and one is a byproduct of the petrochemical industry. There are other alternatives, like cork, but I have always been a fan of the longevity, versatility, and look of leather products over some alternatives.
MY THOUGHTS: THE ANKLE BOOT IN BLACK AND ECRU
For size reference, I wear an 8.5/9 wide and ordered an 8.5 (or 39) in these boots. I started wearing these shoes two months ago.
FIRST IMPRESSIONS
When I first received my order, I opened the bag and was ASTOUNDED. These boots are even more gorgeous in person. The amount of work that went into making these boots is evident and the skill of their artisans is unmatched. The tatreez embroidery is exceptional and beautiful.
Aside from a small amount of black dye that was on the ecru portion of one of the embroidered sides, there were no faults in the boots and this small, barely visible blip honestly didn't bother me. I really enjoy small faults like this in products because I think it adds to its hand-made beauty.
THE AMAZING
My boots arrived packaged in a reusable fabric bag with minimal packaging. As soon as I put these on, I was worried about how snug they were. I went and messaged Darzah and was comforted: they will break in, it's normal! As a wide-footed platypus human, I was skeptical. I hear this all the time. But they were so right. A couple months in, these boots fit like an absolute dream. They have molded to my foot in ways that no other boots have for me in the past.
The slight heel from these boots is also one of my absolute favorite features. I like to have a little pep in my step. I can wear these casually in the lab or to a professional conference and feel appropriately dressed for both occasions.
The height of the shoe is perfection. They don't shorten or cut your legs up into unflattering portions, but compliment any outfit and give you the confidence to strut your stuff. I would feel comfortable wearing these with jeans, slacks, dresses, or shorts... really anything. I am not exaggerating when I say these are my everyday go-to shoe (with recent snowy weather, I opt for my bean boots instead). I have worn these in the rain without adding a treatment to the leather and they have turned out fine.
THE NOT GREAT
Like all shoes, these aren't perfect. There have been times I've worn them that my feet have felt fatigued and sore afterward. I walk to school and some days I have to go in-between buildings for class or lab work. If I walk to and from school on a given day and add in walking around my lab, it's over 2 miles for a given day. This isn't a shoe for long-distance walking, but it has merit in other ways.
I brought these shoes to my recent SETAC conference in Toronto, Canada and my feet got sore after each day (some days walking around 15,000 steps). But if I contrast this to a conference I went to a couple years ago, wearing a pair of supposedly top-notch ankle boots from Cobb Hill, my feet felt better at the end of the day in my Darzah boots than in my Cobb Hill boots.
There have also been a couple occasions where my pinky toe was squished into my neighboring toe, causing a bit of a toe war and resulting in a small nail cut. This didn't bother me and has only happened when I wear them for too long or simply forget to cut my toe nails... more of a personal problem.
My last problem has been the longevity of the rubber outsole on the bottom of the heel and shoe. The front of the shoe's outsole has lifted slightly in the middle of the shoe and the back heel has worn down significantly in some locations, likely due to an unevenness in my step. After only two months of (albeit consistent) wear, I am surprised the heel has worn as much as it has. But, since I love these boots so much I will probably take them to a cobbler and see if I can get the heel reinforced and repaired and save these shoes for certain occasions, rather than for consistent commuting.
THE VERDICT
LOVE! Everything about Darzah's mission and process makes me want to support them. If I can't find things used, I find it best to support a company I believe in that is transparent, ethical, sustainable, and doing the most good. Darzah fits the bill on all accounts, and with all the style you could ever hope for.
I plan on being a repeat customer in the future, if the need arise!
In addition to shoes, Darzah has a lovely assortment of other products like: key fobs, headbands, pillows, bags, and more! Check them out.