The Honest Consumer: " EMPOWERING WOMEN IN PALESTINE WITH DARZAH'S FAIR TRADE SHOES"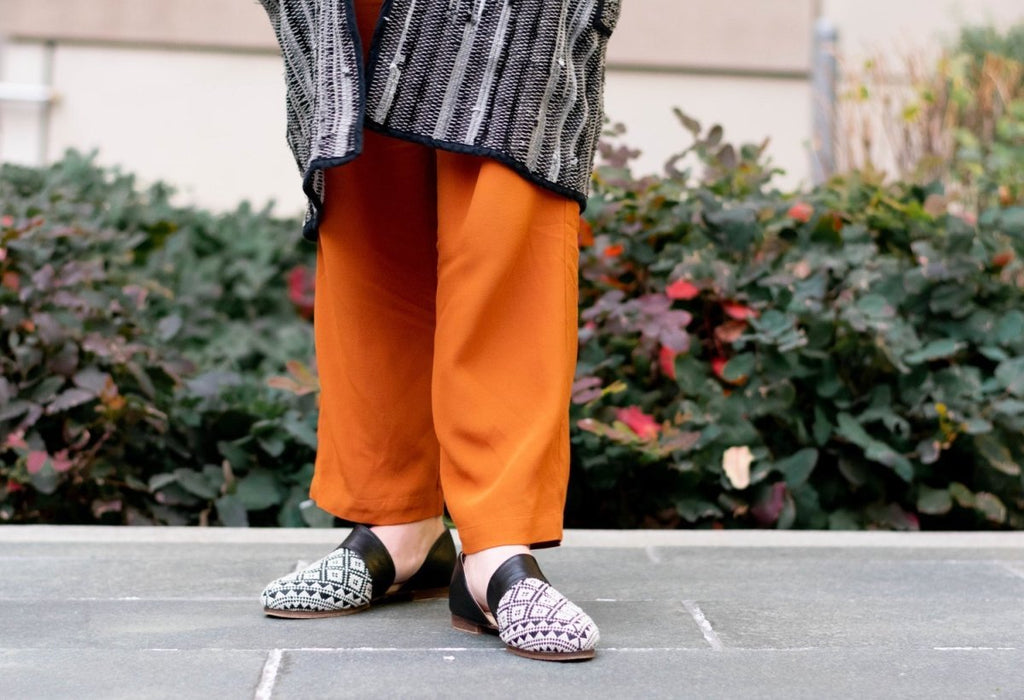 This blog is a repost from Emily of The Honest Consumer. Check out her blog for more on conscious living, social enterprises and ethically made goods. 
Darzah
empowers refugee and low-income women in West Bank, Palestine through the creation of high quality leather goods. This non-profit social enterprise is creating job opportunities for women to rise out of poverty, support their families, and keep the traditional artform of Tatreez embroidery alive. Darzah's beautiful leather shoes, bags, and accessories celebrate fair fashion and modern style.
Through her job at the University of Oklahoma Darzah founder, Dr. Habashi, was involved in Palestinian fundraising projects. When refugee and low-income women came to Dr. Habashi in need of jobs to support their families, she was quick to take action. With a 63% unemployment rate for young women living in Palestine, women struggle to find opportunities for work. Dr. Habashi founded Darzah with a vision of focusing on traditional Tatreez embroidery skills combined with modern style allowing these women to monetize skills they already had to support their families. 
Tatreez embroidery is typically passed down from mothers to daughters in the Palestine culture. Different Tatreez embroidery patterns originate from various regions of Palestine making the intricate detail of Darzah products unique and meaningful. Since launching, this ethical fashion brand has been able to employ six women full time, twenty two women part time, & currently training eleven women. Darzah's sister brand Zeki, creates additional jobs in Palestine through the creation of educational toys.
Through Darzah's training the women refine their embroidery skills, learn record keeping, and other business skills giving each woman an opportunity to shine. Women craft Darzah goods at a community center allowing them to grow together. Each woman plays a vital role in Darzah's supply chain. The individual roles encourage women to hold each other accountable, foster an organic community through teamwork, and take responsibility.
While Darzah is doing everything they can to create employment opportunities, there are still a lot of women in Palestine hoping for work. This is where consumers have the opportunity to help! By purchasing Darzah's high quality leather goods and supporting their efforts, this allows Darzah to grow and hire more refugee & low-income women. 
Recently I was given the Black Flat D'orsay shoes and I am so impressed. These shoes are incredibly well made and I'm loving them. The high quality leather is locally sourced from Al Khalil making the leather sole of the shoe very comfortable. I sincerely appreciate the intricate detail of the Tatreez embroidery. The style of the shoe is unique. These shoes truly are a wearable piece of art. I love that the pattern is bold, but the black and white colors allow these shoes to be paired with a variety of outfits and worn in any season. 
I encourage you to support Darzah's efforts empowering refugee & low income women by checking out their high quality leather goods and investing in fair fashion.
Thank you to Darzah for supporting The Honest Consumer community and sponsoring this post. Sponsored content helps keep The Honest Consumer up as a free resource for all interested in conscious living. For more tips & tricks on conscious living be sure to follow The Honest Consumer on social media.