An interview with Arab America: "Darzah and Child's Cup Full: Palestinian Brands Helping Refugees"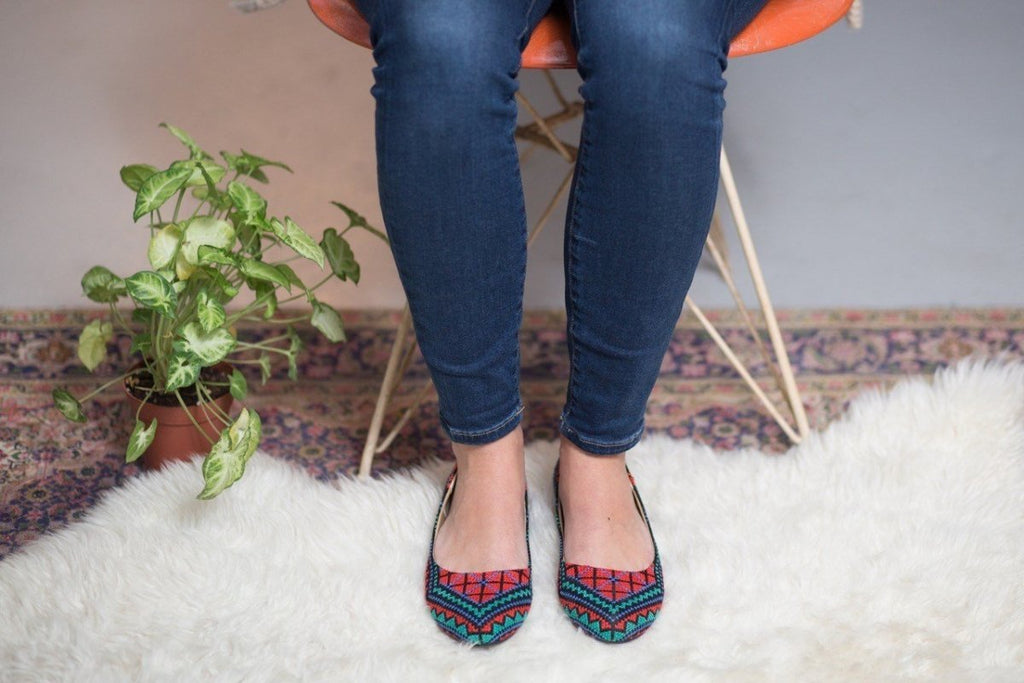 This blog is a repost from Nadine Ismail of Arab America, a media outlet dedicated to promoting information about the Arab American community and Arab world. 
Darzah and Child's Cup Full: Palestinian Brands Helping Refugees
BY: Nadine Ismail/Ambassador Blogger
While doing researching on Arab products, I discovered two organizations, Darzah, a fair trade website selling Palestinian tatreez clothing and accessories, as well as Child's Cup Full, another fair trade website selling Palestinian-made children's toys and educational products.
Immediately, I fell in love with the embroidered shoes on Darzah as soon as I saw them. This was a very satisfying purchase as Darzah is a brand that benefits refugees in the West Bank and empowers women. I was so excited when I received the box that I made a little unboxing video and shared it on my Instagram account. As an embroiderer myself who knows the time and effort it takes to create a neatly finished product, I was very impressed with the quality of the embroidery from Darzah.
Child's Cup Full is the other line of Palestinian products that give back to low-income and refugee communities in the West Bank. The women behind Child's Cup Full offer a variety of handmade educational toys for kids. I also made an unboxing video of the Arabic Alphabet Bag from Child's Cup Full, and recommended it in my article on 10 Products To Teach Arabic to Toddlers.
The story of Darzah and Child's Cup Full are compelling and inspirational. Luckily, I had the opportunity to interview their founder, Dr. Janette Habashi.
Nadine Ismail: How did you decided to start this organization?
Dr. Janette Habashi: It was not an easy decision to start Child's Cup Full. I always wanted to do something to support the Palestinian community back home, but never knew what it could look like. Starting in 2009, I was fundraising with my students the University of Oklahoma (OU) for several years to support after school programs for refugee children in the Jenin refugee camp in the northern West Bank. While fundraising was helpful, it became clear to me that in order to have a long-term, sustainable impact, I needed to find a way to create jobs for the moms.
After considering their skill sets and my academic background in educational psychology, creating an artisan center for women to produce educational children's toys seemed like the logical next step.
Initially, I was reluctant because it was a big responsibility and I knew it required a lot of time and resources, especially because setting up the artisan center in the West Bank and our nonprofit in the U.S. meant creating two organizations at once, essentially. I had the IRS paperwork on my desk for several months, and eventually in 2014, I submitted the application. It wasn't until a year later that CCF had a formal team in the U.S., which is still to this day just our Assistant Director and myself.
In 2015, we decided to create Darzah as another way to generate jobs for refugee and low-income women in the West Bank, and to share the beauty of tatreez embroidery. It's certainly not easy, but I am so glad that I am on this path. Not only are we successfully helping women and their families, we are also placing a strong value on women's contributions in their local communities in Palestine, which is so important.
NI: How does Child's Cup Full and Darzah help women and refugees in the West Bank?
JH: High unemployment rates in the West Bank unfortunately impede people's ability to have confidence in the economy and the future for their children. In order to combat that, our mission is to create jobs for the most marginalized members of Palestinian society, first and foremost. Our goal is to empower refugee and marginalized women through training and job creation, and to share their beautiful work in the global marketplace.
We want the women to make high quality, unique products, and we want people to be able to connect with Palestinian culture in new ways. By hiring marginalized women artisans, in return, we are providing a stable income that they can use to support themselves, their children and their families.
The women have expressed that working with CCF provides security, helps build confidence in the economy, and enables them to dream for their future. It is always exciting to hear about their plans.
NI: How are these products received in the US market? Are your customers mainly Arab Americans?
JH: We have been selling our products in markets all over the U.S. We have definitely refined both product lines in response to feedback from our customers. Our products are definitely appealing to Arab Americans, as well as the general market in the U.S.
We find that people who have never seen tatreez embroidery before, for example, get very excited about it and they love the products. We see a huge opportunity for both our educational toys and our tatreez embroidered products to grow in the U.S., and we want to make sure we are reaching communities that maybe have never before purchase a product made in the West Bank.
We want people to want our products because of their utility and quality, and then to appreciate the product because it's fair trade, and creates jobs for Palestinian refugee and low-income women in the West Bank.
NI: Do you have a success story that comes to mind?
JH: I believe every day for us is a success story, considering how far we've come since we started. I remember at OU when we had our first bake sale to fundraise for the after school programs, and later we started with just $4,000 to create the artisan center. We are now in more than 25 stores in the U.S. and internationally, and we are building more momentum each day. We have retailers and companies who are interested and impressed with the quality and design of our products.
Success with our brands in the U.S. translates directly to success for job creation in the West Bank, and we hope to continue hiring more women as the business grows, so that we can rely on our sales to sustain our initiative there.
NI: What is the one product from each line that impresses you most and wish everyone would know about?
JH: I do love all of our products, but the one that still surprises me the most are the shoes. For me, these are not just beautiful, high quality embroidered shoes; they are the product of many math exercises and innovative thinking that our lead embroidery artist has to do to create them with our shoemaker in Hebron. It takes more than 3 days to finish a pair of shoes. It took us a year to find a shoemaker that could produce the shoes with the high quality leather and impeccable finishing they are made with now. Wearing these shoes is literally wearing a piece of art.
For the educational toys products, the toy that to this day still impresses me is one of our oldest toys, the Calendar. The colors, images, and quality attract not children, but also adults. Children can learn more than one aspect. Every time I look at our product I am impressed and confident that this work would not happen if it were not for our artisans.
To purchase tatreez embroidered fashion products and their new collections, visit the Darzah webpage today. To purchase educational products and toys, check out the Child's Cup Full webpage today.
Nadine Ismail of Reinventing Nadine is a blogger living in the Bay Area in California. Nadine shares on her blog and Instagram accounther recipes, crafts and embroidery tutorials, and parental advice, especially raising a bilingual child.