Muslim Girl: "This Organization is Creating Job Opportunities for Refugee & Low-Income Women in the West Bank"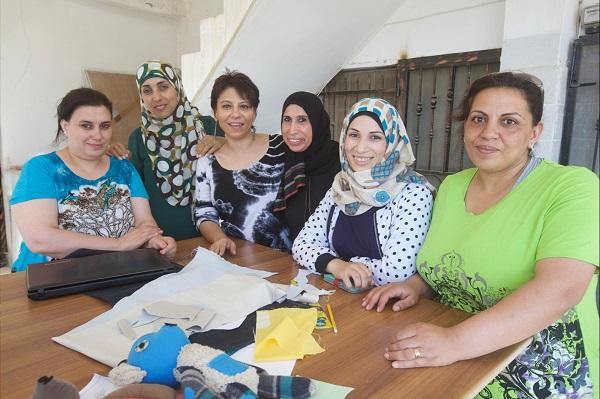 This blog is a repost from Mulslim Girl, check out the blog for more on empowering Muslim women in society. 
This Organization is Creating Job Opportunities for Refugee & Low-Income Women in the West Bank
In the West Bank, limited access to the global marketplace prevents many talented Palestinian women artisans from building careers with their sewing, embroidery, and design skills.
Dr. Janette Habashi, Associate Professor in educational psychology at the University of Oklahoma, is determined to change that.
She created the Child's Cup Full artisan center in Zababdeh, a village in the northern West Bank, with a mission to create lasting economic opportunity for the most marginalized communities in the West Bank:  Refugee and impoverished women.
Over the past four years, the small nonprofit has created two product lines for the US market: Child's Cup Full children's toys, and Darzah tatreez embroidered shoes and accessories.
The organization's strategy is to train and employ women to make high quality, handmade children's toys and tatreez embroidered accessories for the global marketplace, and to generate business opportunity by opening doors to the US market in particular.
Child's Cup Full aims to build a self- sustaining business, so that eventually the funds generated from product sales can support its training and employment programs in hard-to-reach communities in the West Bank. We are currently fundraising on LaunchGood to sustain and grow our artisan center this year. We hope to raise $25,000 by mid-July to train and employ at least four moms in the Jenin region.
Four of the six women who currently work at the Child's Cup Full artisan center in Zababdeh have been with CCF since 2012, including Rasha:
"I like the work here, and enjoy the company of these women. I have been able to help my family and kids, and Alhamdulillah, it's improved the quality of my life, and has allowed me to be more confident…It has helped increase quality of life here for Zababdeh and the women working here. Hopefully, it remains like this so we can continue to be creative Palestinian Women!"
CCF uses a fair trade, retail and wholesale business model to scale solutions that tangibly improve the lives of refugee and low-income families. Rather than providing loans or vocational training, CCF aims to grow its own artisan center to create stable employment opportunities by growing its brands in the US. We hope to grow our artisan center in Zababdeh and eventually train and employ women in artisan collectives across the region, including Ramallah, Hebron and Beit Jala, to manufacture products for the Child's Cup Full and Darzah brands.
Take action:  Need to give your zakat for Ramadan?  Donate to Child's Cup Full here.
 Submitted by Cayley Pater