Darzah's Work Towards Tahriri Embroidery and Palestinian Cuisine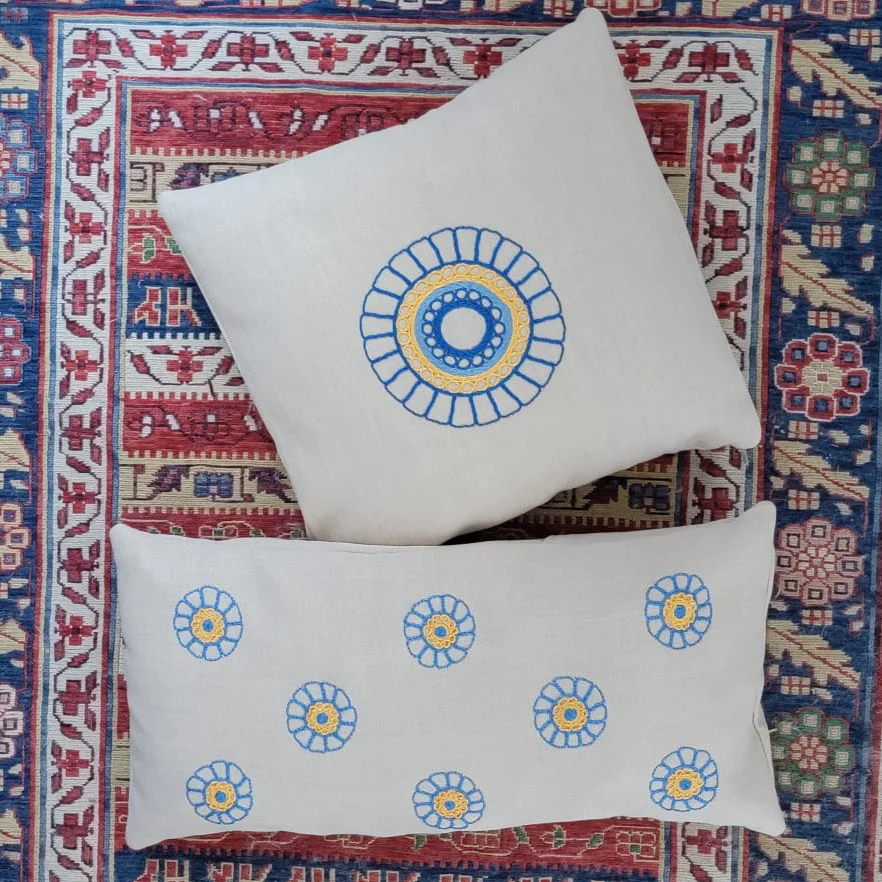 Tahriri embroidery, a mesmerizing, indigenous art form historically practiced in the Bethlehem and Beit Jala regions of Palestine, efforts to save this unique marker of Palestinian identity has helped it come to the Darzah Artisan Center. The month of September also plays host to a very special day, particularly to those food-inclined. Read on to find out all about Za'atar Day!
Documenting these exceptionally valuable pieces of Palestinian heritage is something Darzah proudly takes up. As part of our mission to supply ongoing skills training, we are teaching this highly specialized art form to Darzah artisans, expanding its practice from the origin regions of Beit Jala or Bethlehem to the Darzah Artisan Center. From here, we hand embroider various Tahriri patterns on pouches, pillows and table runners that find their way across the globe to our customers. 
"Couching" used for Tahriri Embroidery
The second most prevalent decorative surface work in Palestine, Tahriri stitching utilizes the couching technique, requiring specialized hands and the essential knowledge of traditional motifs that have beautiful names. Tahriri is not as common as Tatreez, with regions that have specialized in their creation. 
Preserving Tahriri motifs, while dedicating our work to commercial use that in turn brings funding invested directly into Palestinian communities. This technique was used by women on the front panels of wedding dresses, side panels of skirts and the cuffs of long, traditional Palestinian dresses.
This month, we wanted to highlight this piece of Palestinian Heritage while paying our respects to something truly special taking place on the 23rd, Za'atar Day! A close comfort food for every Palestinian, the spice blend eaten with pretty much anything!
Za'atar, a Day to Relish
Used in Palestinian and Middle Eastern Cooking from time immemorial, Za'atar or a tantalizing mix of herbs and spices finally has a day dedicated to its namesake. A mix of thyme, sesame and caraway seeds along with sumac, form the base for this wonderful blend used to make za'atar mana'eesh, baked za'atar chicken and pretty much anything that needs a burst of flavor.
Za'atar even is said to contain health benefits with the tonic mix of herbs and spices that promote immunity, skin health and a more wholesome diet through the use of dietary fiber and protein.
Eaten in multiple ways, it is a true Palestinian favorite. At the Artisan center, our kitchen sees constant use with a Qahwa or Tea ever brewing. Having been using the same stove for as long as we can remember, the kind, hardworking hands that use it to cook up their favorite meals also learned the process of Tahriri embroidery, helping expand the number of people who adopt this craft. Recently, we were elated to see an artisan who mostly didn't cook, turn on the stove and make her favorite dish. A beautiful moment we could capture in the artisan center between the sessions of dignified work.
As fall approaches, like the natural environment, the dishes change from light salads, fruits and drinks to more hearty dishes often infused with Za'atar. Telling us a lot about the versatile nature of this herb and spice blend, it can be made throughout the year, melding with the flavors of whatever dish it is infused with. 
We couldn't be more excited to welcome the new season with all its tastes, sounds and smells as we further promote the laborious making and usage of Tahriri in more facets of life by people around the world.