The Significance of Olive Season for Palestinians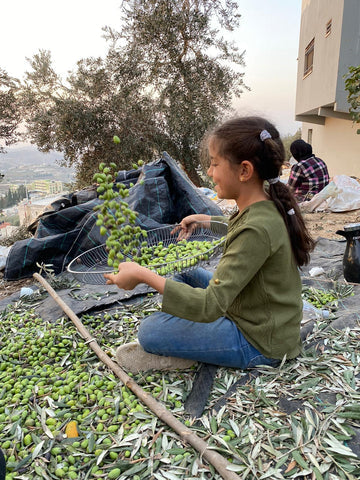 Many people don't realize the deeper reason why olive trees are so meaningful to Palestinians. Palestinians' relationship with olive trees extends far past simple survival, olive trees mirror back to Palestinians' own strengths as a people. One of the first things that a Palestinian family does when they move into a new home, plants their olive trees. Olive trees are one of the loudest symbols of Palestinian heritage and national identity. With Palestine being home to olive trees that date back to 4,000-5,000 years ago, it's no wonder why they are considered a national treasure. 
Olive trees are an inheritance, they are passed down from generation to generation and are an integral part of any family. Olive trees are a symbol of connection and attachment to the land they are planted in. 
Here are some reasons why we love olive trees:
They Stand Tall
Olive trees are much like Palestinians themselves. They stand tall and proud. There is a confidence about themselves and the presence that they carry that is incredibly noble and humbling. The sturdiness of an olive tree makes it a reliable source that our ancestors relied on for thousands of years. 
Each One is Unique
They say that all souls are like snowflakes- all different and beautiful in their own way. Well, we want to rephrase that saying with olive trees instead. Each olive tree is as unique as the family itself. 
They Bring Families Together
In the olive harvest season (roughly mid-October to the beginning of November), families come together to harvest their olives. This is a cherished time of connection, and reunion and plays a critical role in strengthening family bonds. Not only does it honor the family in the present moment, but this is also a sacred time to remember the family's ancestors who once protected and cared for those same trees. 
Olive Trees Symbolize Resistance 
Olive trees can withstand the toughest conditions of drought, poor soil, etc. And yet, they are always able to stand tall, hold firm roots, and produce the highest quality. Much like Palestinians themselves, olive trees not only persevere in the face of adversity but thrive while doing so. 
It truly is a priceless gift to a people to be able to identify and feel connected with a piece of nature that not only connects them with their land but provides life for generations. The same way that olive trees have been tended to and cared for daily for generations reflects the way a mother cares for her children. In Palestine, olive trees are synonymous with family, and family is the spine that holds everything together. There is a unifying force in putting in tiring amounts of labor, simply to regain all strength back when seeing the fruits of the harvest.
Tatreez, just like olive groves, has been passed from one generation to the next.
Together with Heifa from Fufu's Kitchen, we created the Olive Branch Tareez Apron. So no matter how far you may be from the olive groves of Palestine, you can wear this apron proudly and celebrate Palestinian cultural heritage.
Blog post written by Kristiana Peric