A letter from our Founder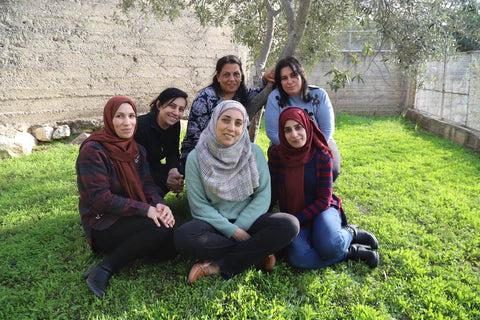 A letter from our Founder, Dr. Janette Habashi:
Reflecting on 2022 and its many challenges, I realize there are many reasons to be grateful. In the summer of 2022, I visited Palestine to meet our artisans in the West Bank and set up plans for the future. Due to the severe effects of the coronavirus in Palestine, we had to put a lot of our plans on hold but we expect to revive some of them in 2023. Still, there are a lot of projects and partnerships that came into fruition in 2022 and we wanted to share these updates with you.
Partnerships
We partnered with Upeffect, a crowdfunding website that helped us raise $50,000 USD to create employment and training opportunities for more women artisans in the West Bank. Our partnership with them is evolving and helping us to build new, meaningful networks that we hope will flourish in 2023.
Through an artisan accelerator program, Nest awarded us 4 fellowships through which we got the opportunity to collaborate with talented professionals and artists like a public relations expert, copywriter, graphic designer and fashion designer. The result of this was our brand new logo, the launch of our first-ever unisex tatreez bag and a renewed brand persona that aligns better with our mission.
Sustainability Certificate
Through Nest, we also began working on a sustainability certificate, which calls for a thorough assessment of our work procedures to demonstrate our dedication to safe and healthy working conditions, the abolition of child labor, an environmentally safe workplace, and fair wages. We hope to obtain the certificate by March 2023.
New hopes for 2023
Our hope for 2023 is to continue training more women in Palestine and train our artisans in new skills. In 2022, our artisans learned the basics of traditional Palestinian tahriri embroidery. In the coming weeks, they will be trained in the next level of tahriri and we hope to create products that showcase this embroidery soon. We are confident that our artrisans will come up with some beautiful designs.
Another goal is to venture into new product categories, such as scarves and belts to further our mission of making Palestinian art forms a part of people's daily lives. 
Operating a business in Palestine comes with its own set of unique challenges and we believe that it is our resilience and strong belief in the work that we do that keeps us going. We are determined and committed to creating a thriving, sustainable business that creates an empowering present and future for our artisans, their family members, and the larger community.

Stay tuned for 2023.