Summer Essentials with Darzah. Discover our Apron Collection, Tote Bags and Sandals for your Summer Days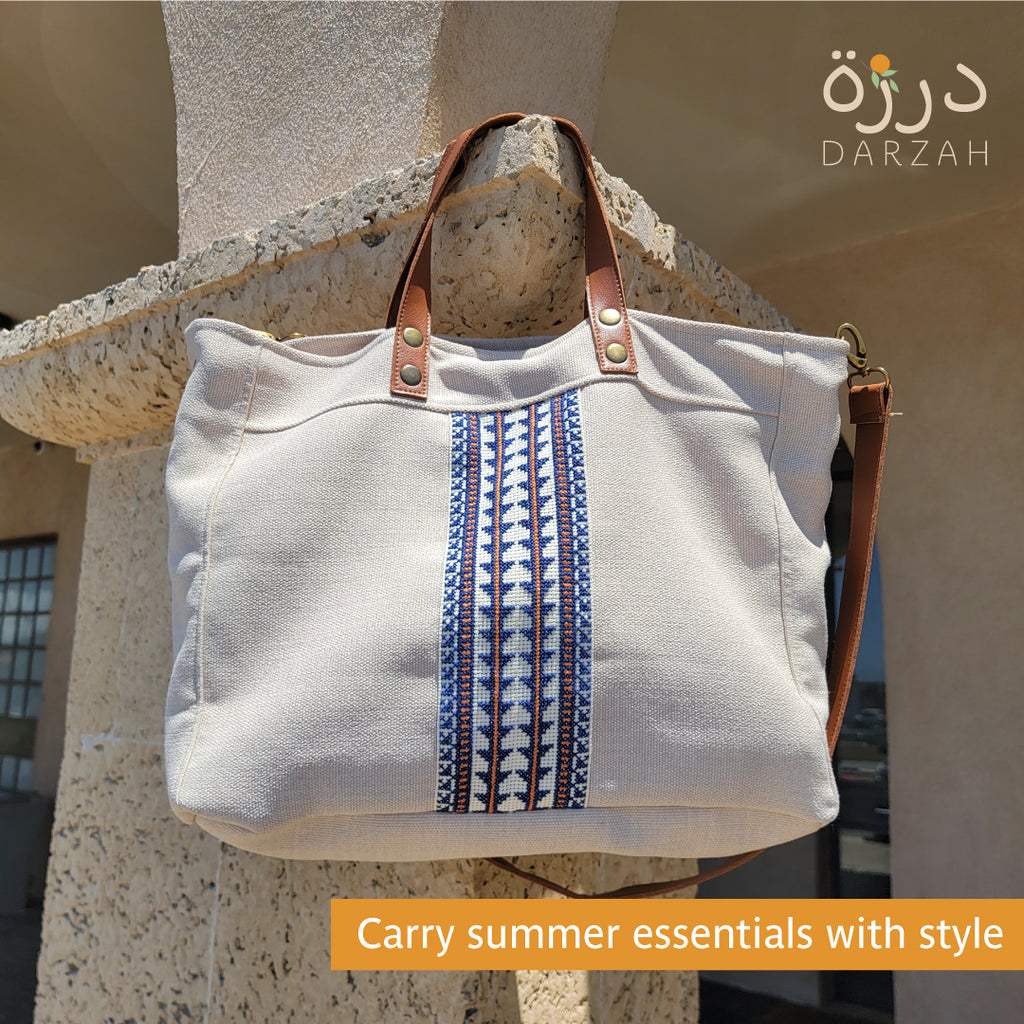 Handmade by Palestinian Mothers, with Community at Heart 
Darzah holds the value of community close to heart. Our artisan center is suffused with the aroma of mint tea and busy collaboration. Creating Darzah products is not a one-person job, so our artisans find collaboration to be key. Summer heralds a time of joy and gathering, and our artisan center is the place to be. 
For when you're whipping up some delicious food this summer, the Darzah apron collection comes in handy. Here we present our range of summer products for home, apparel and bags that'll help you savor the summer. 
We've got you covered with all the right products for summer. Keep your feet comfortable with Tatreez embroidered sandals, carry around your summer essentials in a unique Tote and make delicious meals with our one-of-a-kind Kuffiyeh apron collection made in collaboration with Fufu's Kitchen. 
Darzah x Fufu's Kitchen Apron Collection
Darzah collaborated with Heifa Odeh, the brains behind Fufu's Kitchen to bring you 100% handmade and Fair Trade aprons embroidered with Tatreez. Meant to give back to the Palestinian community and diaspora that has influenced both products and recipes from Fufu's Kitchen for so long. 
The Kuffiyeh Apron from the apron collection is a special find, with mesmerizing Tatreez embroidery making cooking your favourite meals every bit more special. Like every Darzah product, we maintain our ethical and sustainable manufacturing process for creating the aprons, ensuring our artisans only create what is needed.
Handmade Tote Bags Created for All
The Walid Unisex Tote has seen an upgrade with an all-new adjustable strap making it easier for all to carry. The perfect multipurpose tote with an easygoing design, it is designed with both men and women in mind. A spacious unisex option to carry around your summer essentials.
Step into the Summer with Stylish Sandals 
The Mona Cross Strap and Square Tatreez Sandal are the perfect options for long summer days. The Cross Strap Sandal featuring intricate Tatreez embroidery is available in a playful, summery berry color. If easygoing sandals are your thing, check out the Square Tatreez Sandals. The chic look is further complemented by how comfortable it is.
From beach strolls to city movement, sandals help elevate your style during the hot summer. Step into carefree summer days with these comfy companions featuring beautiful Tatreez embroidery. 
Working as a team, every Tatreez and Tahriri creation is handmade with the goal of preserving Palestinian tradition while providing stable employment opportunities to women in the West Bank. These pieces, made with love, find themselves worn around the world.